Home / Commercial Roofing / Modified Bitumen Roofing
Modified bitumen (MB) is another excellent roofing alternative, used regularly on commercial properties ranging from retail centers to multi-family apartments. It is an extremely economical and flexible roofing system for low-slope or flat roofs. One of the oldest of the "modern" roofing methods, it has been time-tested. And with the new advances in technology, it has become a long-lasting and safe roofing material for single and multi-family dwellings.
Modified bitumen is asphalt with modifiers added to it to give it plastic or rubber-like properties making it much more durable. It is made of six basic layers that can be assembled in a number of different combinations.
Insulation – a layer that offers R Value. R Value helps keep heat out in the summer and in during the winter months. The insulation also offers a stable base for the other layers.
Base sheets – either modified or unmodified sheets or plies used under the membrane
Modified Bitumen Membrane – a sheet of modified bitumen reinforced with either polyester (we always knew there was a good use for this besides leisure suits), fiberglass or a composite carrier
Adhesive – a bonding agent that sticks all the layers together (can be applied either hot or cold)
Surfacing – a surface coat to protect against UV rays and weathering, and also offers cool roofing options
Flashing – provides protection around the edges of the roof as well as around perforations in the roof created by vents, AC/Heating units, etc.
Benefits of Modified Bitumen Roofing
Resistance: Modified bitumen roofing has superior fire resistance and waterproofing characteristics.
Flexibility of application: MB offers a broad range of application methods including heat welded, cold adhesive and hot asphalt. It also offers a wide choice of top-surfacing, including "cool roofing" options
Durable: MB has a very high tensile-strength and resists thermal shock and splitting. MB can be made extremely resistant to fire, wind and hail with the proper surfacing or coating.
Cost: Modified bitumen is some of the lowest cost per square foot material you can use for commercial roofing applications. Because it is easy to install, labor costs are less expensive as well.
Low Roof Maintenance
Modified bitumen requires little maintenance over an average 20 year lifespan. Toward the end of the 20 years, coatings can be applied to extend its serviceable life even more.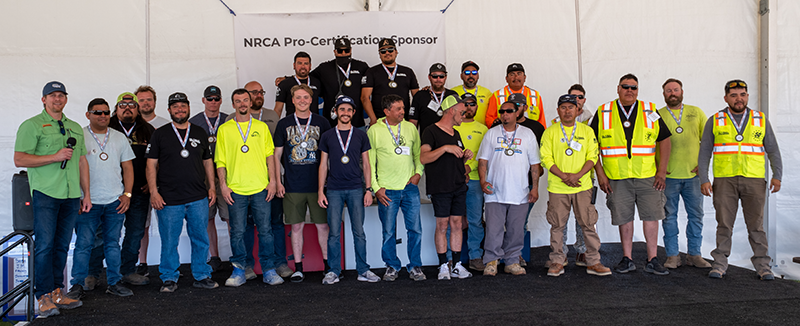 Did you make it to the Roofing Olympics?